Przedpokój najczęściej nazywany jest wizytówką domu i to nie bez przyczyny! Właśnie on wita domowników oraz nowo przybyłych gości zaraz po przekroczeniu progu. Jednocześnie przedpokój narażony jest na trudniejsze warunki, a co za tym idzie - większe zabrudzenia. W szczególności ściany są wystawione na ryzyko zabrudzenia i zarysowania, dlatego kwestia ich wykończenia jest niezwykle ważna. Zatem co wybrać na ścianę w przedpokoju żeby się nie brudziła? Podpowiadamy!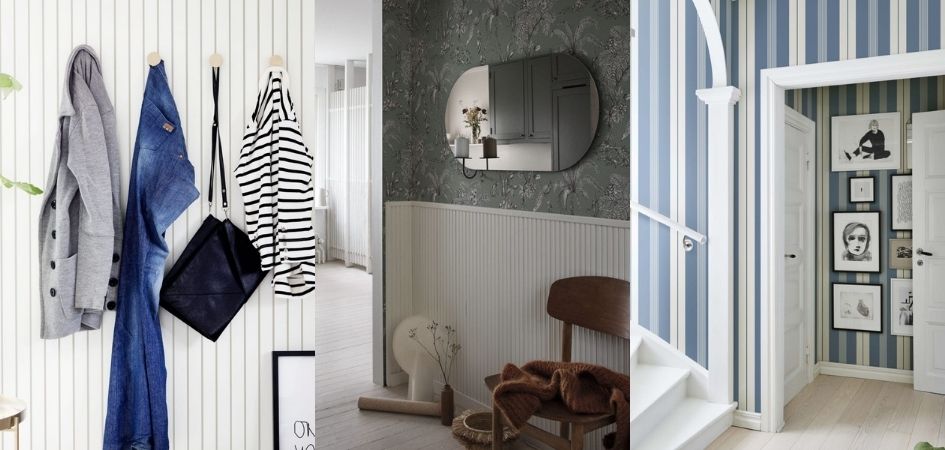 Co na ścianę w przedpokoju żeby się nie brudziła? 
Wybierając wykończenie ściany w przedpokoju warto wziąć pod uwagę przede wszystkim wygodne i funkcjonalne rozwiązania. Ważne jest to, aby codzienne korzystanie z pomieszczenia było przyjemne i nie przysparzało nas o zawroty głowy. A przedpokój to przecież miejsce, w którym nie sposób uniknąć dotykania ścian, zabłoconych butów czy mokrej odzieży. Wszystko to jest dużym zagrożeniem dla ścian, dlatego najlepiej postawić na rozwiązanie, które w dużej mierze je ochroni. Co więc wybrać na ścianę w przedpokoju żeby się nie brudziła? Istnieje kilka funkcjonalnych rozwiązań i pomysłów na ściany w przedpokoju m.in. wysokiej jakości tapeta, fototapeta, boazeria albo zmywalna farba. 
[product id="18894, 12301, 17884, 7466"]
Jaka tapeta w holu? Zmywalne tapety do przedpokoju
Oryginalnym i trwałym sposobem wykończenia ściany w przedpokoju jest tapeta, która nie tylko pomoże ochronić ścianę przed zabrudzeniami, ale i zakryje drobne ubytki i nierówności, które rzucają się w oczy. Na szczęście wybór tapet do przedpokoju jest ogromny - od minimalistycznych, subtelnych wzorów, po geometryczne, zwierzęce, a nawet abstrakcyjne. Wszystko zależy od indywidualnego podejścia do dekoracji, należy jednak przy tym  wszystkim pamiętać o spójności stylu. Najważniejszą kwestią przy wyborze tapety do przedpokoju może okazać się jej materiał, który decyduje o jej wytrzymałości na wszelkie zabrudzenia. Warto postawić na tapetę winylową, która nazywa jest również tapetą zmywalną. Tapety zmywalne do przedpokoju są odporne na wodę, wilgoć, szorowanie i czyszczenie za pomocą środków chemicznych. Wszystko to zapewnia w pełni wygodne i funkcjonalne użytkowanie, a co więcej - taka dekoracja może zdobić ściany przez długie lata! Tapety do przedpokoju zmywalne zazwyczaj składają się z dwóch warstw - zabezpieczającej warstwy wierzchniej z winylu oraz spodniej papierowej albo flizelinowej. 
Przeczytaj również: "Jaka tapeta do przedpokoju?"
Fot. @flamingos.home, @ingridwenell
Tapeta do przedpokoju - inspiracje
Jaki wzór tapety wybrać do przedpokoju? Wszystko zależy od indywidualnych preferencji i stylistyki wnętrza! Jest jednak kilka ponadczasowych wzorów, które nie wychodzą z mody i z pewnością będą mogły zdobić ściany przez długie lata. Jeśli twoje wnętrze utrzymane jest w minimalistycznym, skandynawskim stylu, uwagę skup na tapetach w subtelne kwiaty, delikatne teksturalne wzory czy minimalistyczne, finezyjne kształty. Dobrym wyborem może okazać się również tapeta w paski, która zazwyczaj powiększa pomieszczenie. Tak - to idealny wzór to wąskich i małych przedpokojów! Taka tapeta najlepiej odnajdzie się w nowoczesnym lub klasycznym przedpokoju, na równi z innymi geometrycznymi wzorami. Natomiast tapeta do przedpokoju w stylu glamour powinna być nieco bardziej elegancka i finezyjna, tak jak np. tapeta w ornamenty. 
[product id="36071, 36182, 6499, 51126"]
Fototapeta do przedpokoju - inspiracje
Obecnie producenci fototapet i murali wykorzystują najnowocześniejsze technologie, które sprawiają, że fototapety są niezwykle wytrzymałe i odporne na czynniki zewnętrzne. Na rynku dostępnych jest kilka serii i kolekcji wodoodpornych murali i fototapet, które są idealną propozycją do przedpokoju.  Na szczególną uwagę zasługują takie rozwiązania jak: Wall & Deco WET SYSTEM czy London Art Glass Wallpaper. Oba systemy tapet są niezwykle wytrzymałe i w pełni wodoodporne. Ale jaki wzór fototapety wybrać do przedpokoju? Przede wszystkim warto zaznaczyć, że fototapety robią największe wrażenie widziane z odległości, więc nie jest to najlepsza propozycja do małych i wąskich pomieszczeń. Na szczęście producenci proponują też bardziej minimalistyczne wzory murali, które idealnie się w nich odnajdą. Najpopularniejsze modele fototapet do dużego przedpokoju przedstawiają natomiast pejzaże i krajobrazy morskich wybrzeży, miast czy lasów. 
[product id="52723, 50773, 49253, 50214"]
Co na ścianę w przedpokoju? Boazeria!
W ostatnim czasie do łask wróciła boazeria, jednak w bardziej minimalistycznym wydaniu. To idealna propozycja do przedpokoju, która ochroni ściany i wprowadzi oryginalną nutę do pomieszczenia. Poza walorami dekoracyjnymi, boazeria pełni również funkcję ochronną - zabezpiecza ściany przed zabrudzeniem i uszkodzeniami mechanicznymi oraz poprawia warunki termiczne pomieszczeń. Możesz postawić na lamperię umieszczoną na całej długości i szerokości ściany, albo połączyć boazerię z tapetą. To właśnie to drugie rozwiązanie jest ostatnio popularne, szczególnie wśród najpiękniejszych, instagramowych profili! Boazeria z tapetą w przedpokoju jest idealnym wykończeniem ścian dla wnętrz w stylu rustykalnym czy skandynawskim. 
[product id="45965, 32386, 45964, 52873"]
Farby do przedpokoju 
Jednym z najpopularniejszych rozwiązań jest pomalowanie ściany w przedpokoju zmywalną, plamoodporną farbą. Taki wyrób bez problemu można czyścić za pomocą wilgotnej ścierki lub gąbki. Jednak należy pamiętać, że farba nie chroni ściany w przedpokoju przed wgnieceniami czy zadrapaniami. Natomiast jeśli chodzi o kolor ściany w przedpokoju, najlepszym rozwiązaniem będą jasne odcienie, które nadadzą aranżacji przytulnego charakteru.
[product id="7611, 7421, 29281, 14099"]