Szukasz pomysłu na oryginalne wykończenie ściany w kuchni, która jednocześnie przyciągnie wzrok, ale wciąż pozostanie praktyczna i wygodna w użytkowaniu? Nic prostszego! Nowoczesne technologie sprawiają, że większość tapet z powodzeniem może być zamontowana w kuchni. Tapety ścienne szczególnie triumfują w nowoczesnych projektach kuchennych, w których nie ma miejsca na nudę i powtarzalność.  Obecnie jest to najmodniejsza i najlepsza alternatywa dla zwykłych płytek czy farby. Tapety do kuchni to prawdziwa kopalnia wzorów, kolorów i struktur, a każda kolejna kolekcja odzwierciedla najnowsze trendy wnętrzarskie. Jaką tapetę do kuchni wybrać? Na jaki wzór postawić i co warto wiedzieć? O wszystkim dowiesz się w poniższym artykule.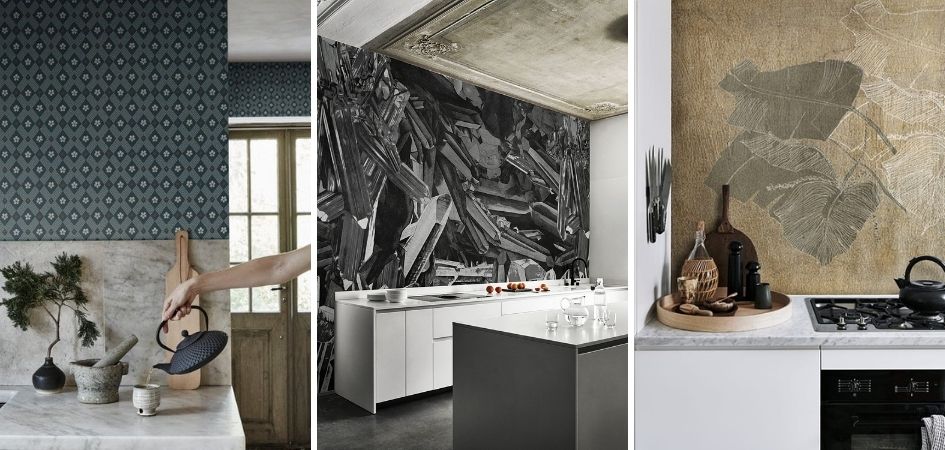 Jaka najlepsza tapeta do kuchni?
Dekoracje, ozdoby i wykończenie to trzy aspekty, które w dużej mierze decydują o indywidualnym charakterze każdej aranżacji, również kuchennej. Pod uwagę bierzemy coraz to nowocześniejsze rozwiązania, które ułatwiają użytkowanie i prezentują się wyjątkowo. Coraz większą popularnością cieszy się ostatnio wykorzystanie tapety w kuchni zamiast płytek, a nowe technologie sprawiają, że rozwiązanie to staje się jeszcze bardziej praktyczne. Jednak wybierając idealny model tapety do kuchni, pod uwagę warto wziąć nie tylko względy estetyczne, ale i techniczne. Jaki więc rodzaj tapety wybrać do kuchni? Wśród dostępnych rozwiązań proponowanych przez producentów, wyróżniają się przede wszystkim: 
Tapety winylowe do kuchni
Tapety winylowe nazywane są również tapetami zmywalnymi, głównie z tego względu, że są w pełni zmywalne. Są odporne na wodę, wilgoć, szorowanie i czyszczenie za pomocą środków chemicznych, a wszelkie zabrudzenia wystarczy zebrać ręcznikiem i zmyć mokrą szmatką z dodatkiem detergentu. Tapety zmywalne do kuchni zazwyczaj składają się z dwóch warstw - zabezpieczającej warstwy wierzchniej z winylu oraz spodniej papierowej albo flizelinowej. 
Wodoodporne tapety do kuchni
Producenci tapet tworzą innowacyjne rozwiązania i systemy, które odpowiadają na najsilniejsze potrzeby. Obecnie dostępnych jest kilka serii i kolekcji wodoodpornych tapet, które są idealną propozycją do kuchni, czy innych wnętrz narażonych na bezpośredni kontakt z wodą. Na szczególną uwagę zasługują takie rozwiązania jak: Wall & Deco WET SYSTEM czy London Art Glass Wallpaper. Oba systemy tapet są niezwykle wytrzymałe i w pełni wodoodporne. 
Zobacz też: >>Jaką tapetę do łazienki i pod prysznic wybrać?<<
[product id="49828, 38724, 49850, 51268, 51273, 51285"]
Modne wzory kuchennych tapet
Za pomocą tapety możemy w szybki sposób przeprowadzić metamorfozę wnętrza, odświeżyć je i ukryć drobne niedoskonałości. Jednak nie ma co ukrywać - kolekcje tapet to ogromna kopalnia wzorów, która może przyprawić o zawrót głowy. Rośliny, geometria, egzotyka, abstrakcja - jakie wzory i motywy tapet sprawdzą się w kuchni? To pomieszczenie najczęściej nazywane jest sercem domu, więc zasługuje na szczególną oprawę. W pierwszej kolejności warto zastanowić się nad kolorystyką. To właśnie ona utrzymuje harmonię w pomieszczeniu i pozwala na ogranie wnętrza barwami albo wręcz przeciwnie - stworzy klimatyczny kontrast.
Stonowana aranżacja kuchenna może być połączona zarówno z minimalistycznym wzornictwem, jak i bardziej abstrakcyjnym, a wyrazista kuchnia może zostać ocieplona tapetą w kwiaty albo stworzyć efekt wow w połączeniu z muralem. Uwagę warto zwrócić również na motywy rustykalne, retro i nowoczesne. Obecnie wśród najmodniejszych wzorów tapet do kuchni na szczególne wyróżnienie zasługują motywy roślinne, geometryczne i naturalne. Bez względu na jaki wzór finalnie postawimy - tapeta w kuchni to zdecydowanie nietuzinkowy dodatek, który odświeży pomieszczenie i sprawi, że stanie się naszą indywidualną oazą. 
Tapeta do kuchni - inspiracje
Tapeta w kuchni może zostać zamontowana na wiele sposobów, a każda z opcji wydaje się kusić na swój sposób. Tapeta nad blatem w kuchni, tapeta w całym pomieszczeniu albo tylko na jednej ścianie - na co warto się zdecydować? Wszystko zależy od aranżacji i tego, na jakim efekcie końcowym nam zależy! 
Tapeta nad blatem kuchennym - jeśli chcemy wprowadzić miły akcent, który odświeży aranżację, warto zdecydować się właśnie na ten wariant. Niewielki odcinek ściany ozdobiony tapetą będzie niezwykle interesujący, a wybrany wzór spersonalizuje nasze wnętrze. 
Tapeta na jednej ścianie w kuchni - to opcja, która umożliwia wydzielenie stref w pomieszczeniu. Przykładowo - stawiając na montaż tapety na ścianie za stołem w kuchni sprawimy, że strefa jadalniana zostanie wizualnie oddzielona od reszty. 
Tapeta w całej kuchni - jest to najrzadziej spotykany wariant, głównie z tego względu, że większą część powierzchni w kuchni mimo wszystko zajmują półki i szafki. Jednak decydując się na wypełnienie wszystkich wolnych przestrzeni tapetą, tworzymy z niej motyw główny całego wnętrza. W tym przypadku warto zdecydować się na minimalistyczne wzornictwo, które nie przytłoczy całej aranżacji. 
[product id="36100, 36085, 24624"]
Jaka tapeta do małej kuchni?
Tapety do kuchni to dekoracje, które mogą pozwolić nam na optyczne zabawy, szczególnie w małych pomieszczeniach. Warto pamiętać, że w tym przypadku nie zaleca się wyboru tapet w mocne, kolorowe motywy, ponieważ mogą one przytłoczyć pomieszczenie. Tapeta do małej kuchni powinna być stonowana, minimalistyczna i z drobnym wzorem. W małych pomieszczeniach warto również zdecydować się na jasne barwy np. beże. Jeśli zależy nam na efekcie wyższej kuchni warto zwrócić uwagę na tapetę w pionowe pasy. Kolejnym trikiem na optyczne powiększenie kuchni jest coś, o czym już wspominaliśmy, czyli wydzielenie strefy za pomocą tapety. 
Tapeta do kuchni to wspaniały pomysł na urozmaicenie wnętrza i sprawienie, że nabierze ono charakteru. Jest to również najlepsza opcja, jeśli zależy nam na szybkiej metamorfozie i odświeżeniu. A co najważniejsze - ogromny wybór wzornictwa pozwala na stworzenie spersonalizowanej aranżacji, która będzie wprawiać nas w dobry humor każdego dnia!
[product id="24528, 24898, 50248"]