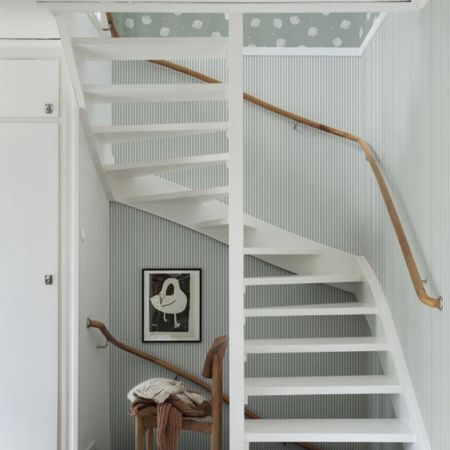 Planujesz remont klatki schodowej, ale nie wiesz, jak modnie ją zaaranżować? Przedpokój zajmuje dość spory obszar w domu i jest jego wizytówką, dlatego warto podkreślić ściany w jakiś nietuzinkowy i oryginalny sposób. Tapeta to świetne rozwiązanie, aby optycznie powiększyć wnętrze i nadać mu całkowicie inny charakter. Nie tylko doskonale się prezentuje, ale pozwala na szybką metamorfozę. Wybór odpowiedniej tapety na klatkę schodową nie jest jednak prosty, ponieważ to pomieszczenie wielofunkcyjne. Zastanawiasz się, jaka tapeta na klatkę schodową będzie odpowiednia? Pomożemy Ci!
Jak dobrać tapetę na klatkę schodową?
Tapeta na klatce schodowej to idealne rozwiązanie dla osób lubiących niekonwencjonalne aranżacje wnętrz. Jest to również doskonała alternatywa dla farby, która ożywia przestrzeń i komponuje się z każdym stylem. Wybierając tapety ścienne na klatkę schodową, zwróć uwagę na oświetlenie pomieszczenia. To bardzo ważna kwestia w doborze dekoracji ściennej. Do jasnych pomieszczeń możesz dopasować niezliczoną liczbę kolorów i wzorów. Do ciemnych pomieszczeń zaleca się jaśniejsze i bardziej stonowane faktury. Dobrze jest skomponować tapetę z pozostałymi elementami jak meble, dodatki, czy podłoga. Warto również zwrócić uwagę na to, że ściany przedpokoju są częściej narażone na uszkodzenia, dlatego wybrana tapeta powinna być dobra jakościowo. Sprawdź także, z jakiej odległości będzie widoczna, ponieważ drobne elementy z daleka będą się zlewać z tłem.
Wzór tapety na klatkę schodową
Na rynku istnieje szeroka gama modeli, które dopasujesz do swojego wnętrza. Obecnie popularne są nowoczesne tapety na klatkę schodową imitujące naturalne materiały oraz krajobrazy. W stylu skandynawskim wykorzystuje się tapety z motywem lasu oraz roślinności. Natomiast glamour preferuje drobne wzory w pastelowych odcieniach. Jeśli twój przedpokój zawiera sporą liczbę drzwi, warto postawić na mocniejszy akcent, aby odciągnąć od nich uwagę. W tym przypadku możesz bardziej skupić się na fakturze niż na samym wzorze. Przykładowo, możesz wybrać tapety ścienne na klatkę schodową o grubszym splocie. 
[product id="36078, 77330, 62794, 36063"]
Optyczne powiększenie klatki schodowej
Twój przedpokój jest mały, ciasny i szukasz rozwiązania, jak go powiększyć? Z pomocą przyjdzie ci tapeta dekoracyjna. Dzięki niej odmienisz wnętrze swojego domu. W tym celu możesz zastosować tapety na klatce schodowej w pasy, które zmienią optycznie proporcję wnętrza. Pionowe paski podwyższą pomieszczenie, a poziome wydłużą je. Decydując się na takie tapety, należy pamiętać, że wpisują się one do stylu klasycznego. Jeśli zatem nie pasują do twojego wnętrza, to wybierz przynajmniej jasne, pastelowe barwy. One także powiększą optycznie przedpokój. 
Optyczne pomniejszenie klatki schodowe
Obecnie w nowoczesnych domach projektuje się otwarte i szerokie klatki schodowe. Wiele osób poszukuje rozwiązania na zmniejszenie przedpokoju bez konieczności kucia ścian. Warto zastanowić się zatem, jakie dekoracje ścienne mogłyby pomóc. Tapeta na klatce schodowej w ciemnych odcieniach będzie idealnym rozwiązaniem dla tego problemu. Burgund, butelkowa zieleń czy też granat to kolor must have w twoim domu. Sprawdzą się także tapety z mocniejszymi akcentami wzorniczymi np. etniczne kształty lub formy 3D. Zwróć uwagę na powierzchnię - gładkie i matowe nie pozwolą osiągnąć oczekiwanego efektu. Nowoczesne tapety na klatkę schodową występują w różnej fakturze, przypominają często naturalne materiały. Będą świetnym sposobem na pomniejszenie przedpokoju.
Wytrzymałość - tapeta na klatkę schodową
Wybierając tapety na klatkę schodową, koniecznie zwróć uwagę na jej jakość. W przedpokoju panuje zawsze duży ruch, dlatego nietrudno o uszkodzenia, czy zabrudzenia. Często przy schodzeniu ze schodów podpieramy się ściany lub po prostu jej dotykamy. Warto zatem wybrać tapety odporne na zmywanie oraz zadrapania. Dobrze odnajdą się w tym miejscu tapety winylowe. Występują w wielu wzorach i kolorach, dzięki czemu łatwiej będzie je dopasować do wnętrza. Wybór jest nieograniczony, a ich jakość pozwoli cieszyć się piękną dekoracją ścienną przez lata. 
Jaką tapetę wybrać? Nasze propozycje
Przedpokój w przeciwieństwie do innych pomieszczeń nie jest łatwy w aranżacji, dlatego przedstawiamy kilka naszych propozycji.  Przede wszystkim w jak każdym wystroju trzeba zachować umiar i rozsądek. Klatka schodowa w tapecie musi komponować się ze stylem wnętrza. Jeśli przedpokój utrzymany jest w stylu klasycznym, dobierz tapetę w stonowanych i jasnych barwach, bogato złocone ornamenty nie będą pasować do takiej kompozycji. Obecnie naturalne wzory wiodą prym w aranżacji wnętrz. Liście eukaliptusa, trawy oraz pióra to doskonały wybór na ścianę w mało nasłonecznionej klatce schodowej. 
Tapeta to doskonały sposób na wykończenie wnętrza i nadania mu oryginalnego charakteru. Różnorodność wzorów, efektywnych motywów i wyrazistych kolorów przekłada się na wyjątkowe inspiracje, które zadowolą nawet najbardziej wymagające osoby. 
[product id="60276, 60295, 53358, 28401"]